Heschel is proud to have alumni around the world with impressive accomplishments, both personally and professionally. We will be posting these spotlights regularly and encourage you to share your stories with us. Please contact us at alumni@heschel.org for more information or to send us your spotlight.
Adin Lenchner (HS '08) is a Campaign Manager at Locust Street Group, a small Washington D.C. based public affairs consulting firm. Adin remembers that from an early age, The Heschel School "taught that it was not sufficient just to be, just to learn, just to live our lives -- we had to commit ourselves to helping those around us and to making the world a better place. That important lesson drew me to working on electoral campaigns and engaging in politics." Adin works with clients to help craft genuine, grassroots organizational efforts around public policy issues that are important to the firm and its clients.
After graduating from Wheaton College in 2012, Adin moved to Denver to work on President Obama's re-election campaign and since has worked on congressional and statewide campaigns in New Hampshire, New York, Iowa, and Utah.
In January of 2015, Adin had the opportunity to move to Tel Aviv with OneVoice as a Field Advisor to support V15, an effort to engage and mobilize center-left voters to vote in the March elections. He says that "it definitely pushed the bounds of my Heschel-learned Hebrew! How would I know all the technical terms I would need to say? 'Cumulative report' or 'canvassing', never mind walking our data team through our voter targeting..."
Adin credits so much of his path to what he learned at Heschel. "Heschel was so much about finding as much value in the process of learning as in the substance of the learning itself...I found the deep commitment to the process of learning to be really meaningful. It pushed me to attend a liberal arts college and continues to keep me thinking creatively about ways to engage voters, support my clients, and how to creatively tackle both professional and personal challenges."
Luis Serota (HS '12) is the Co-Founder and Chief Technology Officer of Speech Up, an affordable and accessible platform that digitizes the speech therapy process by providing exciting games and challenges that children can play and solve by pronouncing words correctly. Before founding Speech Up, Luis attended Hamilton College where he received a B.A. in Computer Science and then went on to pursue a Masters of Engineering in Computer Science at Cornell University.
Early into his masters program at Cornell, Luis and his co-founder David Cheng were placed together at random to work on a challenge posed to them by Google's research team. While working together, they quickly learned that they both attended speech therapy as children. They discussed the tedious, yet effective hours they spent working on their speech, and how fortunate they were that their families were able to afford it. Luis says that "it became clear to us that speech therapy was an industry we were passionate about, and decided to compete for Cornell Tech's annual startup award." In the spring of 2017 upon graduation, Luis and David won the award and were given seed funding and free office space for a year at Cornell Tech's new campus on Roosevelt Island.

Powered by the phoneme recognition algorithm that Luis and David developed while graduate students at Cornell Tech, Speech Up provides real-time feedback on pronunciation accuracy and digitizes proven speech therapy methods they created with the help of Speech and Language Pathologists.
Luis says that "a stutter, or any speech disorder, can be an incredible impedance to the development of any child's self-esteem and confidence. The warmth and comfort of the Heschel community was so strong that it allowed me to forget I was a stutterer, and eventually turn stuttering into a source of pride and reason to test the waters of entrepreneurship. In retrospect, I took for granted that luxury during my K-12 years at Heschel -- a luxury I don't think I would have had anywhere else."

Leora Einleger (HS '14) is currently in her senior year at Barnard College, Columbia University where she is an Athena Women's Leadership Scholar studying Political Science and International Relations. Before attending Barnard, Leora spent a gap year on Kivunim.
In her short time away from Heschel, Leora has accomplished a lot, putting her academic interests into practice through various internships, including the U.S. House of Representatives Committee on Foreign Affairs, Planned Parenthood Federation of America, NARAL Pro-Choice America and NY City Council Member Mark Levine. A highlight for Leora is having the opportunity to draft the questions that were asked before former Secretary of State Rex Tillerson and US Ambassador to the United Nations Nikki Haley on women's health.
These experiences have allowed her to explore a variety of career options and she is now considering a career in international women's empowerment, reproductive rights law or even possibly running for office one day.
When asked to reflect on her Heschel experience, Leora says that "I truly would not be the person I am today without Heschel. In Middle School I became involved with the social action committee. We ran Dance-a-thons, student gatherings and other fundraisers to raise money for genocides and tsunamis happening all around the world. Then, in high school, I was a member of the
Hesed
Committee. Through our
Hesed
Days and various volunteer opportunities, Heschel taught me to have empathy for others. My career interests are geared towards helping and caring for other people, which are values that were instilled in me during my time at Heschel."
Beginning this September, Sharone Kattan (HS '07) will be working as a Speech Language Pathologist at The Shefa School, a Jewish day school for students with language-based learning disabilities. After graduating from Heschel, Sharone received a BA from NYU, an MA in TESOL (Teaching English to Speakers of Other Languages) from Tel Aviv University, and an MS in Speech Language Pathology from Brooklyn College.

At The Shefa School, Sharone will be supporting groups of students in their receptive and expressive language abilities in addition to leading reading groups. Sharone will also serve as a resource for teachers in classrooms across various subjects. Sharone looks forward to working with the many talented educators at Shefa, who are able to focus on each student's capabilities while helping them to overcome individual challenges. After school hours, Sharone works with students around NYC to help them improve in various areas including reading, receptive/expressive language, articulation, fluency, and social skills.
The Heschel and Shefa communities are closely connected in that both institutions aim to create caring and supportive environments that integrate Jewish values and traditions into everyday life. The two schools are also similar in their pluralistic models. Sharone is excited to take this new step in her career in an atmosphere that has a familiar feeling. Heschel was my home for so many years and I am grateful for the life-long friendships that I made there, beginning as early as 1st grade.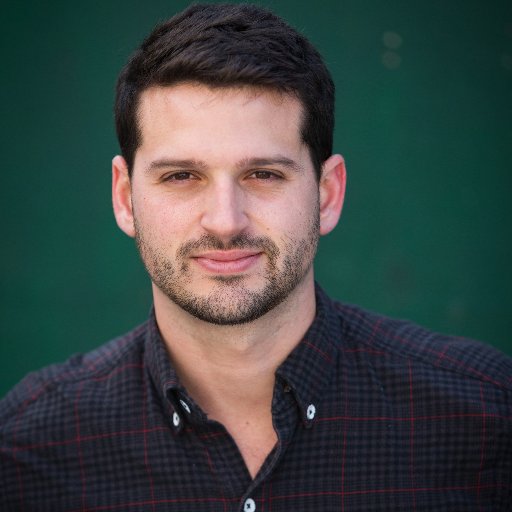 David Roger (HS '08) is the Co-Founder & CEO at Felix Gray, an eyeglass company that aims to combat Digital Eye Strain by filtering blue light emitted by screens. Before launching Felix Gray, Roger worked as an analyst spending 12 hours a day in front of a computer examining spreadsheets and reviewing financial and operational data. Roger reminisced that at the end of his long days staring at his monitor, his eyes hurt and he often had a headache. He began chatting about his aliments with his colleagues and found that many felt the same way after entire days in front of their computers. Roger decided to take this universal frustration and turn it into a useful product for the workplace.
Felix Gray's mission is to combine function and fashion. Roger believes that Felix Gray's eyewear allows consumers to look good and be more productive in the office, which leads to happier, more confident individuals. When Felix Gray launched, it only manufactured non-prescription glasses for those with 20/20 vision or contact lenses. Recently, the company began to offer prescription eyewear.
Roger says that "it feels great to build something that makes people happy and excited." He also says that "every step of the way, there are new challenges that arise, and each step lends itself to finding creative ways to solve new problems."
Roger credits Heschel for giving him the tools to solve these problems, saying "Heschel was flexible and progressive. I had some amazing teachers that challenged me and taught me how to think. I learned how to internalize information and how to use it in new ways."